Some of Team USA's biggest stars will soon have their chance at winning some Olympic hardware following a stellar day that saw medals from teen sensation Chloe Kim and fellow American Arielle Gold.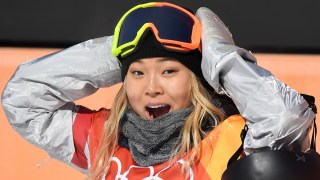 These US Athletes Won Medals at the 2018 Winter Olympics
Figure skaters return to the ice as the pairs event gets underway, bringing Addison's favorite skater and her husband together in the rink again — and just in time for Valentine's Day.
Shaun White will look to make history following his jaw-dropping qualifying run and Mikaela Shiffrin will hopefully make her Olympic debut following delays in the giant slalom event due to weather. 
Here are five things to watch for Tuesday night and Wednesday morning (CT):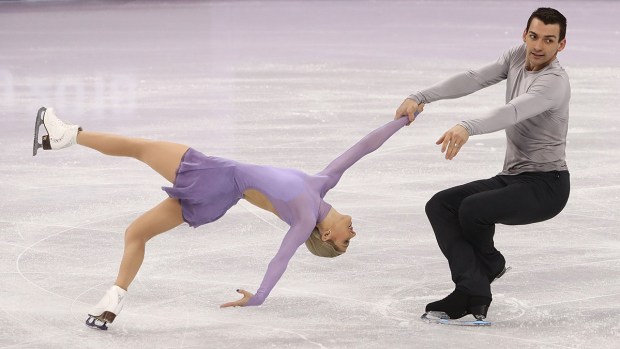 Alexa Scimeca Knierim and Chris Knierim competing in the pairs portion of the team skating event.
Photo credit: Robert Cianflone/Getty Images
1. Beloved Husband-Wife Figure Skating Duo Begins Quest for Pairs Medal
They've already got a bronze medal following their stellar performance in the figure skating team event, but now suburban skater Alexa Scimeca Knierim and her husband Chris Knierim will look for even more Olympic hardware. 
The two were named the sole U.S. pair skaters for the Pyeongchang Games in January after a tough journey to the Olympics. The couple met in 2012, when then-Alexa Scimeca split from her first partner, and the following year earned a silver medal at the 2013 U.S. Championships. They married in 2016, but soon afterward she needed multiple abdominal surgeries for a life-threatening condition; they missed most of the 2016-17 season's competitions.
On the opening day of the figure skating team event, they finished fourth in the pairs' free skate. 
On Tuesday night, the couple will compete in the short program to "Come What May" from "Moulin Rouge."
How to Watch: Watch live on NBC, with coverage beginning at 7 p.m. CT Tuesday, or on digital platforms here.
Must-see: What Chloe Kim's Dad Texted Her Before the Olympic Halfpipe Final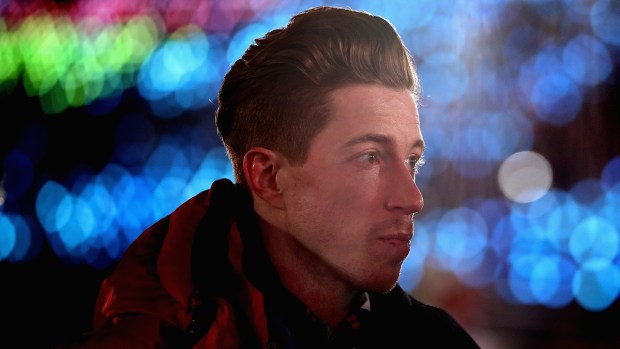 Shaun White of USA looks on during the Opening Ceremony of the PyeongChang 2018 Winter Olympic Games at PyeongChang Olympic Stadium on Feb. 9, 2018, in Pyeongchang, South Korea.
Photo credit: Clive Mason/Getty Images
2. Back from Sochi Debacle, Shaun White Aims for 3rd Gold in the Halfpipe
In Sochi four years ago, Team USA's Shaun White hoped to become snowboarding's first three-time Olympic gold medalist in men's halfpipe. In the end, he made mistakes on both runs and placed fourth.
White, Japan's Ayumu Hirano and Australia's Scotty James are top contenders for the gold in Pyeongchang. At 30, White's going up against the sport's younger generation. Hirano is 19, while James is 23. White's teammates, 23-year-old Ben Ferguson and 19-year-old Jake Pates, are making their Olympic debuts. 
How to Watch: Watch live on NBC, with coverage beginning at 8 p.m. ET Tuesday, or on digital platforms here. 
Must-see: USA's Shaun White coy on what to expect in finals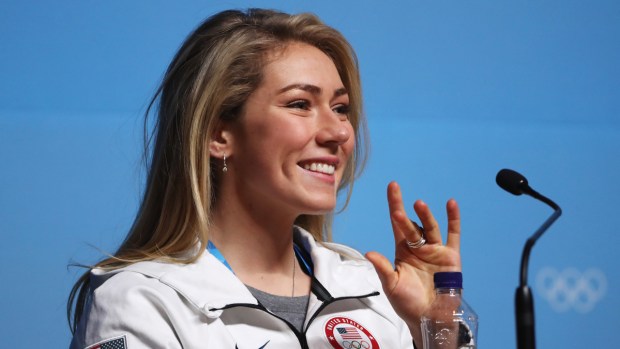 Skier Mikaela Shiffrin on Feb. 10 in Pyeongchang-gun, South Korea.
Photo credit: Ker Robertson/Getty Images
3. Mikaela Shiffrin Finally Will Ski (If the Wintry Weather Cooperates) 
Two days later than expected, Mikaela Shiffrin will make her Pyeongchang debut on Wednesday morning (Tuesday night in the U.S.).
After the giant slalom race was postponed due to dangerous winds Monday, Shiffrin will first ski in her signature event, the slalom. Shiffrin was the youngest-ever Olympic slalom champion at the Sochi Games at age 18, and she's the first woman to win three consecutive slalom world titles in 78 years. She hopes to become the first person to win the slalom gold medal twice in a row.
This will be Shiffrin's first race of a busy schedule — she'll be back on the mountain Thursday morning (Wednesday night in the U.S.) for the giant slalom. Skiing two races in two days shouldn't be a problem for Shiffrin — World Cup races are often held on consecutive days. She is the favorite for a medal in slalom and giant slalom — and she might add the other three individual women's races to her Pyeongchang itinerary. 
Lindsey Vonn, another standout American skier, will not compete in the slalom. 
How to Watch: Watch live on NBC, with coverage beginning at 7 p.m. CT, or on digital platforms here.
And catch the finals runs, starting at 10:45 p.m. CT, on NBC or on digital platforms here.
Must-see:Olympian rides escalator in entirely new way — and the Internet freaks out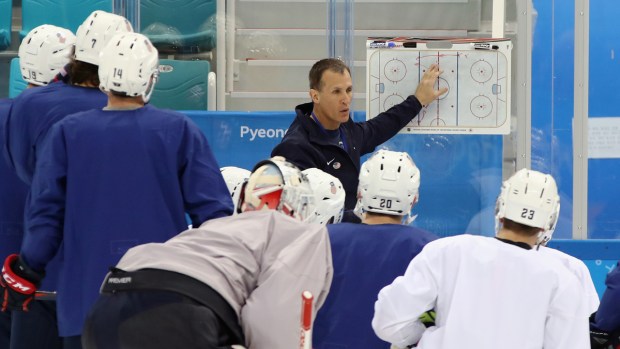 Head coach Tony Granato of the Men's USA Ice Hockey Team works practice ahead of the Pyeongchang 2018 Winter Olympic Games at the Gangneung Hockey Centre on Feb. 9, 2018, in Pyeongchang-gun, South Korea.
Photo credit: Bruce Bennett/Getty Images
4. U.S. Men's Hockey Team Needs No Miracles: Coach
The U.S. men's hockey team has not won a gold medal since the "Miracle on Ice" team of 1980, but on Monday the team's coach told reporters, according to The Los Angeles Times: "To win we don't need a miracle. We need to be at our best for two weeks." 
For the first time since the 1994 Olympic Games, NHL players will not be part of the teams' rosters. Team USA makes its Pyeongchang debut Wednesday morning against Slovenia.
The Russians are favored for the gold medal, with NHL-level talent such as Ilya Kovalchuk, Pavel Datsyuk, Slava Voynov and Nikita Gusev, all of whom play in the major Russian professional league. The team has been called the "red machine" and it's the one to beat. 
How to Watch: Watch Team USA take on Slovenia live on NBCSN at 6:10 a.m. CT Wednesday or on digital platforms here.
Must-see: Disappearing act: Puck finds referee's pocket
5. #HamFam Returns, But Not Together This Time
Wisconsin's favorite brother-sister curling duo aren't done representing the U.S. just yet. Though they failed to make it to medal contention in the first-ever mixed-doubles event, the two will compete apart in the men's and women's teams. 
The women will take on Japan as the men take on Korea. 
How to Watch: Watch the men's event live Tuesday on digital platforms here or on NBCSN from 11:30 p.m.- 1:30 a.m.
Watch the women's event live Tuesday night on digital platforms here or on CNBC Wednesday from 4-7 p.m. CT. 
Must-see: By the Numbers: 'Hangry' Champion Chloe Kim Crushes Halfpipe